Today, EM&AI has officially announced a strategic cooperation with CMC Technology & Solution Company Limited – The Leading Digital Transformation & Cyber Security Solutions Provider in Vietnam. Accordingly, CMC TS will distribute AI platforms developed by EM&AI with the advice and implementation of CMC TS. This cooperation will resonate with the strength of both sides to promote a comprehensive automation ecosystem with artificial intelligence for businesses and organizations in Vietnam.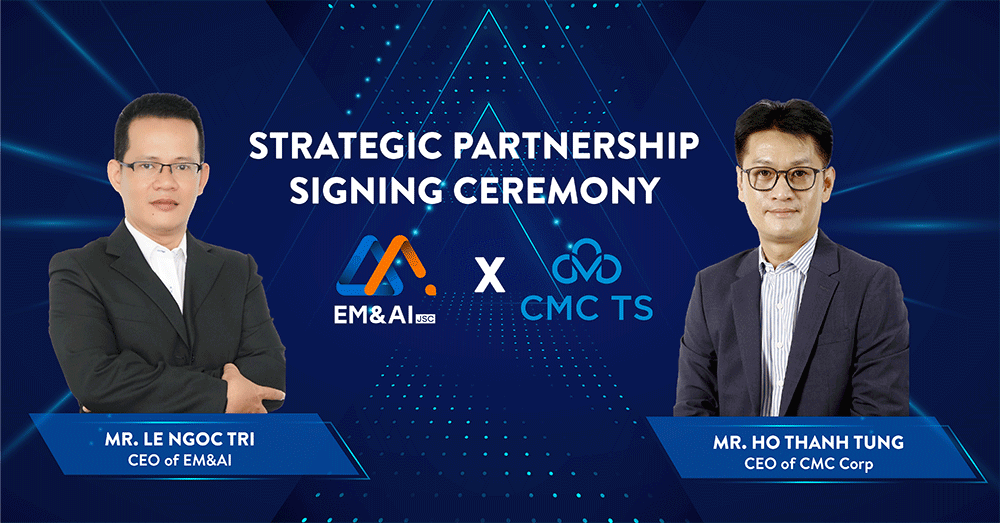 The announcement confirms that EM&AI and CMC TS will reach an agreement to become a strategic partnership in the digital transformation process. The two businesses will cooperate closely to promote the application of virtual assistants on both VirtualAgent & VirtualQC platforms in the cloud computing environment, not only for CMC Technology Group but also for customers using services from both companies.
Mr. Le Ngoc Tri – CEO of EM&AI shared
"Over 04 years of construction and development, EM&AI has always been oriented on the principle of "Great technologies should be shared" – Collaboration for success. Willing to share experience in developing artificial intelligence technology with customers & partners. Providing AI solutions that any business can automatically optimize using their own resources." 
The synergy between an open and intelligent technology platform, which has all the applications for businesses of EM&AI and CMC's rich experience, core technology capabilities, and strong human resources will create a new impulse to promote the digital transformation of all Vietnamese businesses, contributing to Vietnam's digital economy.
Mr. Ho Thanh Tung – General Director of CMC Technology Group and CMC TS emphasized
"CMC TS and EM&AI will cooperate closely to jointly promote the application of artificial intelligence technology and digital transformation solutions to customers' operations. Accompanying customers to build their digital businesses to breakthrough into the new normal."
EM&AI is a pioneer business in developing AI technology and digital transformation solutions for medium & large enterprises. The EM&AI ecosystem includes Virtual Agent – a platform to build virtual assistants that interact with voice, messages and, Virtual QC – a virtual assistant that analyzes and evaluates call content in real-time.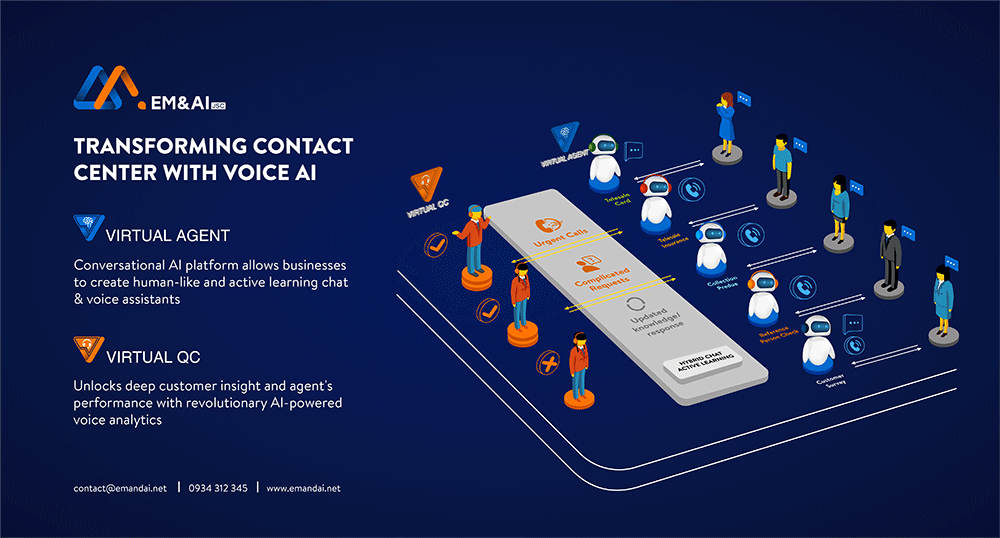 The solutions are built on the platform of core technologies developed by EM&AI, such as Natural language understanding, sentiment analytic, speech recognition & speech synthesis.
With nearly 30 years of experience, 500 leading technology experts with a network of more than 150 global technology partners, CMC TS is currently the leading Digital Transformation and Cyber Security solution partner in Vietnam, accompanying together with organizations and enterprises in Vietnam on the journey of digital transformation, modernizing IT infrastructure and promoting business activities.