Competing against almost 500 companies from Asia within the 5G, AI, deep/machine learning, AR/VR, automation system, fintech, digital healthcare, mobile marketing, energy, robotics, and smart city industries. EM&AI became the only Vietnamese representative in the top 30 of the Global Open Innovation Korea 2020.
EM&AI is a leading AI technology company specializing in Natural Language Processing and Conversational AI Platforms in Vietnam with a solid reputation for integrity, quality, and excellence in management.
Deploying the most advanced technology such as Voice AI (Speech To Text, Text To Speech, Natural Language Processing), EM&AI offers outstanding solutions: Virtual Agent & Virtual QC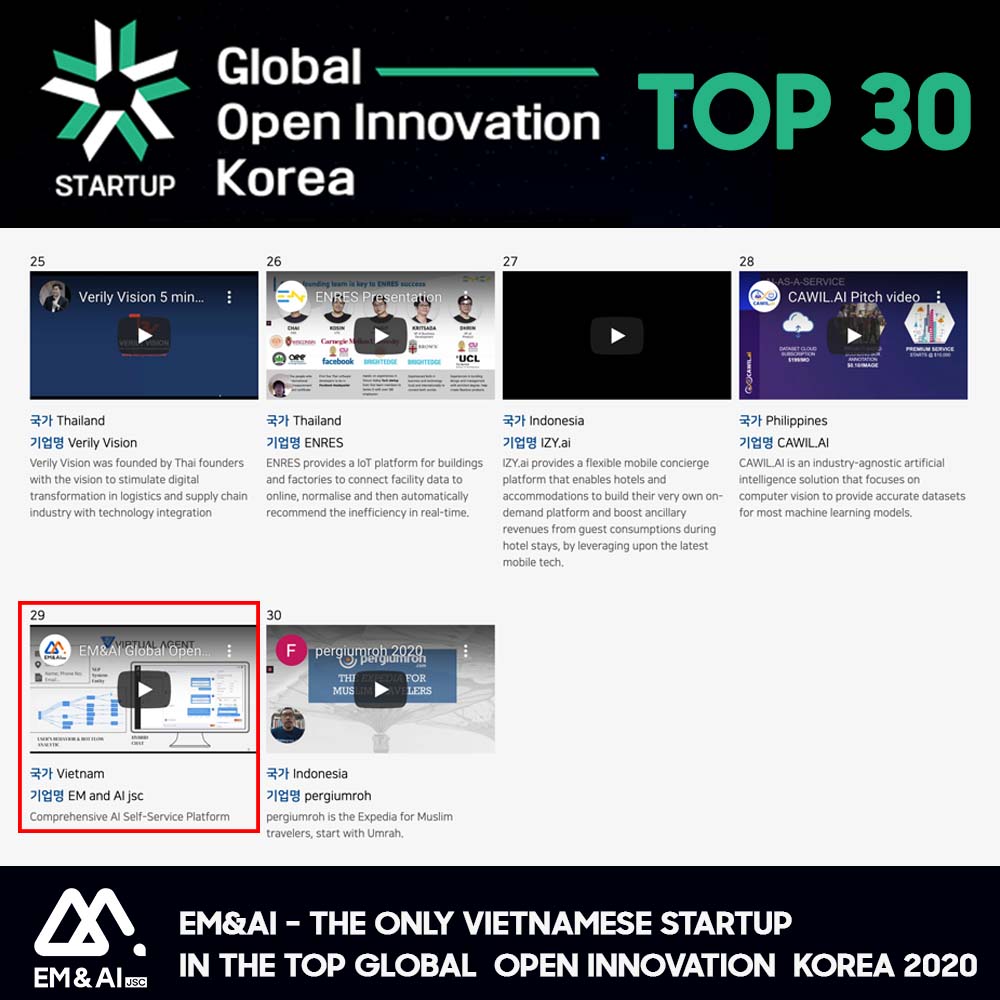 Virtual Agent/ Assistant Platform
Virtual Agent is a conversational AI and Digital Platform that powers automated conversations between a business and its customers via social media, on their website, their app, or even on voice assistants like Google Home.
Virtual Agent powered Conversational AI bot to bring more values: Listen across voice and text channels; understand inquiries and sentiment, in all required languages and across all use cases; respond with personalized and contextual answers; know when to escalate to a human associate and seamlessly transfer the customer; remember what it has learned.
Virtual Quality Controller
Virtual QC is a Voice AI Platform for evaluating both calls and operators. provides a wide variety of benefits to transform processes across a contact center.
Virtual QC powered contact center to bring more values: More automation, more accuracy, more intuitive, more understand customer, more time for coaching & human resource development.
The competition is hosted by the Korea Trade-Investment Promotion Agency (KOTRA). This event provides a global platform for collaborations, connections, and co-creation between global players and Korean startups.