In the Accenture survey, 57% of insurance business leaders supposed that "Applying Conversation AI will create fundamental changes for the insurance industry in the next three years". These solutions deliver drastically changing prospects in customer experience and create favorable conditions for insurance agents and consultants. The following are cases of AI conversation solution application cases in the insurance sector.
Product & Service consulting
Customers expect a higher demand for immediate service and advice. Research shows that if a customer query is unresponsive within 5 minutes, the lead conversion rate drops by more than 400%. In such situations, the presence of an insurance virtual assistant not only increases the chances of converting leads but also makes a strong impression on customers with the correct answer, ensuring a legitimate source of information.
The Conversation AI solution can be used to provide insurance product information in a timely manner and at the same time give instructions on the process, propose suitable insurance products based on profile, and input information of customers.
Collect potential customer information
Based on the user queries, the AI ​​conversation chatbot can segment customers and provide them with relevant quotes and information. This data can be instrumental in assisting the insurance advisor in terms of what potential clients are looking for and taking the corresponding actions.
AI conversation chatbots help drive conversions
One of the benefits of the AI ​​conversation chatbot for insurance businesses is that it not only narrows the gap between potential customers and the brand of the business but also helps define the intentions, needs, and desires of the surname. Based on customer query data, chatbot AI can identify potential customer sets and pass them on to insurance consultants. At the same time, it also helps to navigate customers to schedule appointments with counselors, through simple conversation interactions. In this way, AI chatbots can help increase conversions for insurance businesses.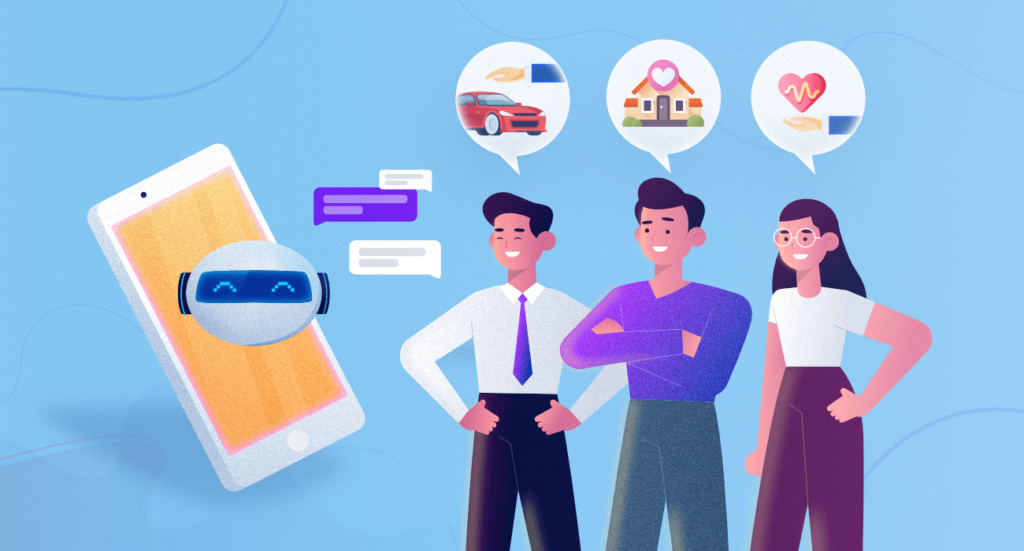 Process customer request & support payment
AI conversation chatbot can be set up to handle insurance claim cases. Besides, there is a reminder of the periodic premium payment. The solution also simplifies the checkout process through the implementation of tasks that guide and navigate customer operations.
Assistant for insurance professionals
With the help of artificial intelligence, the AI ​​conversation chatbot can assist insurance professionals to look up customer information, look up consultation appointments, and more. With the support of this virtual assistant, the insurance professionals do not need to work on complicated software and can be accessed anytime, anywhere.
Thus, chatbot AI conversation is an inevitable trend that cannot be ignored. Insurers need to grasp trends and have appropriate action plans to meet the market.
EM&AI is a provider of the most advanced AI conversation chatbot solution today. With a strong platform for processing pure Vietnamese natural language, the AI ​​conversation chatbot possesses outstanding features that can meet the needs of businesses.
See more about EM&AI Virtual Agent – Smart conversational AI platform for business