EM&AI Virtual QC is the first solution applying the AI technology for Contact Center in Viet Nam. EM&AI strategic cooperations with BPO businesses and the partner providing Contact Center software to launch the comprehensive system of automatic call quality assessment. Virtual QC brings to businesses an optimal solution for human resources, operating costs and increasing customer satisfaction.
The necessary of automated call center quality assessment solution
For the large call center company, the number of calls handled up to thousands of calls per day. Evaluating all of the recordings of call is almost impossible by relying only on the quality assurance team. But to ensure customers have great service experiences, businesses must control the quality of each call. That means having to evaluate all databases of call recording.
Evaluating the large number of calls not only takes a huge budget for personnel but also time consuming. Not to mention, the assessment results may be inaccurate due to the impact of the assessor's psychological and emotional state.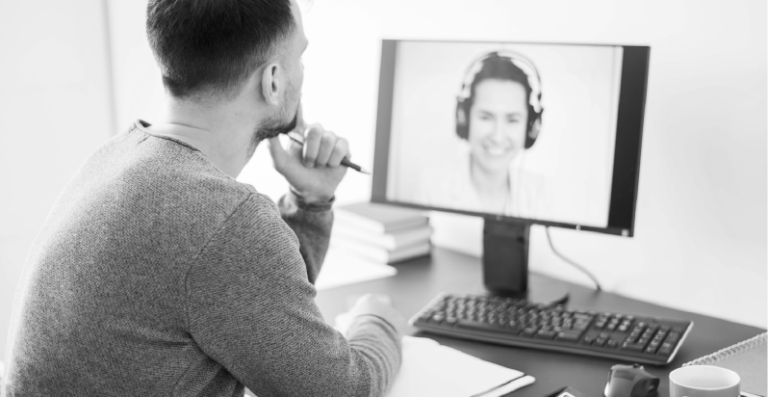 Therefore, it is necessary for automated call center quality assessment solution to help businesses reduce the cost and get the effective result. EM&AI Virtual QC is the optimal solution help the businesses solve difficult problems at the same time.
Evaluating all the call recordings of agents objectively

Exploiting customer insights effectively

Enhancing the productive of training agents

Assurancing the customer experience
EM&AI Virtual QC – The comprehensive system of automatic call quality assessment
What is Virtual QC
Virtual QC is the first solution in Viet Nam applying deeply the AI technology into controlling the call center quality. Virtual QC is built based on the state of art technologies such as Vietnamese Natural Language Processing (VNLP); Speech to text (STT); Sentiment Analysis and Criteria Mapping.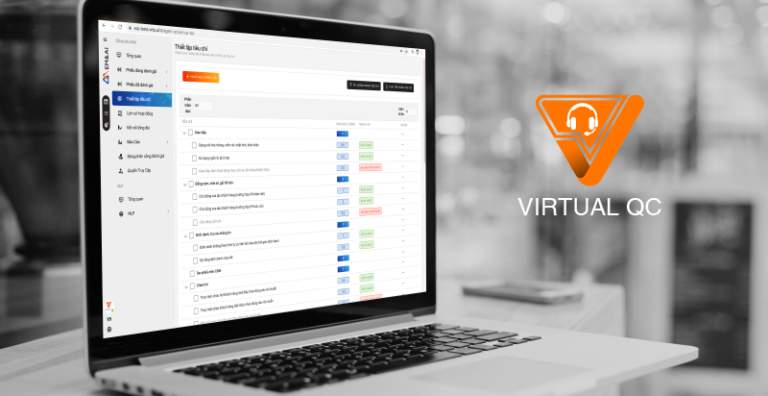 The main features of EM&AI Virtual QC
Virtual QC brings to businesses the solution of automatic quality assessment faster and more objective
Automatic Agent Evaluation: Virtual QC automatic analysis and evaluate 100% of call recordings.

Transcription: Speech To Text technology helps convert call recording files into the text to help to grasp easily the content of the call.

Besides, automatically distinguish who is speaking by using speaker diarization technology.

Extract Key Information: Natural language processing allows the system to detect & extract important information appearing in the content of the call such as customer name, service name, phone number, address …

Comments & Coaching: Add comments for each criterion as well as each agent's line to help them improve their capabilities.

Reports & Forecasting Trends: Reports in the form of tables and visual charts allow supervisors to focus their attention on the factors that determine the quality of a call center.

Criteria Setting: The feature allows businesses to activate existing criteria or add new sets of evaluation criteria suitable for the business.
Virtual QC also allows training the specialized data for each industry. So that it helps the system identify the words, content of call recording exactly.
Why choose EM&AI Virtual QC
Specialized Solution
This platform was built for the purpose of monitoring and measuring service quality exclusively for call centers.
Work Well With Low Quality Audio
Virtual QC system can handle input data with low sound quality caused by contact center working environment.
Speaker Diarization
Supports voice separation of customers and employees for more accurate evaluation results.
Easy to Use
Friendly interface, intuitive, easy to use for everyone and really quick to deploy.
Customized Model
EM&AI provides a platform to help businesses easily train and customize models according to their needs.
Seamless Integration
Integrate seamlessly to CRM, database, contact center software to get livestream data. Evaluate and deliver results in seconds.EM&AI Virtual QC not only help businesses control the quality of calls but also optimize the cost of personnel and operation. This is the future of quality assurance for contact centers that any businesses are aiming for.
If you are searching for the suitable solution for your business, please leave the information at this link. EM&AI team will contact the consultant.