Applying artificial intelligence technology with exclusive algorithms, EM&AI Virtual Agent owns the outstanding features of an intelligent Conversational AI virtual assistant building platform.
What is EM&AI Virtual Agent?
EM&AI Virtual Agent is the platform to build the Conversational AI virtual assistant that is applied to the most advanced technology of natural language processing (Natural Language Processing) and machine learning nowadays.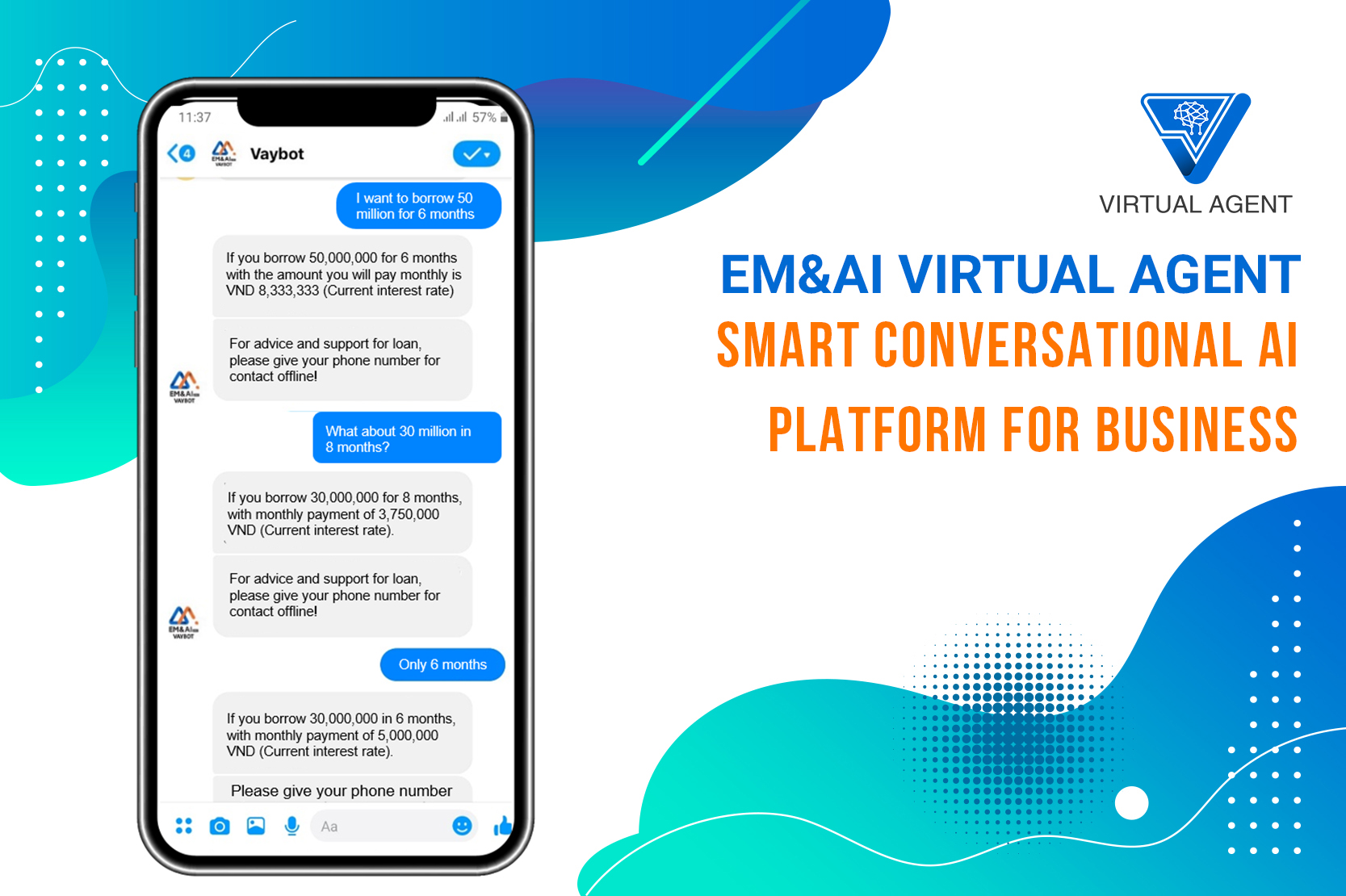 Different from the old-generation chatbots, the EM&AI Virtual Agent platform based on Natural Language Processing technology brings to the ability to give more accurate responses. The EM&AI virtual assistant also has the ability to learn and process data specifically for each industry and each business. Thanks to that, it can create intelligent, flexible conversations like real people.
Virtual assistants created on the EM&AI Virtual Agent platform can be integrated on chat interfaces such as Zalo, Messenger, Website, …, and enterprise applications.
What is the difference between EM&AI's virtual assistant creation platform?
Manage contextual conversations
The EM&AI Virtual Agent platform creates Contextual AI Conversations for smooth, natural conversations like interacting with real people.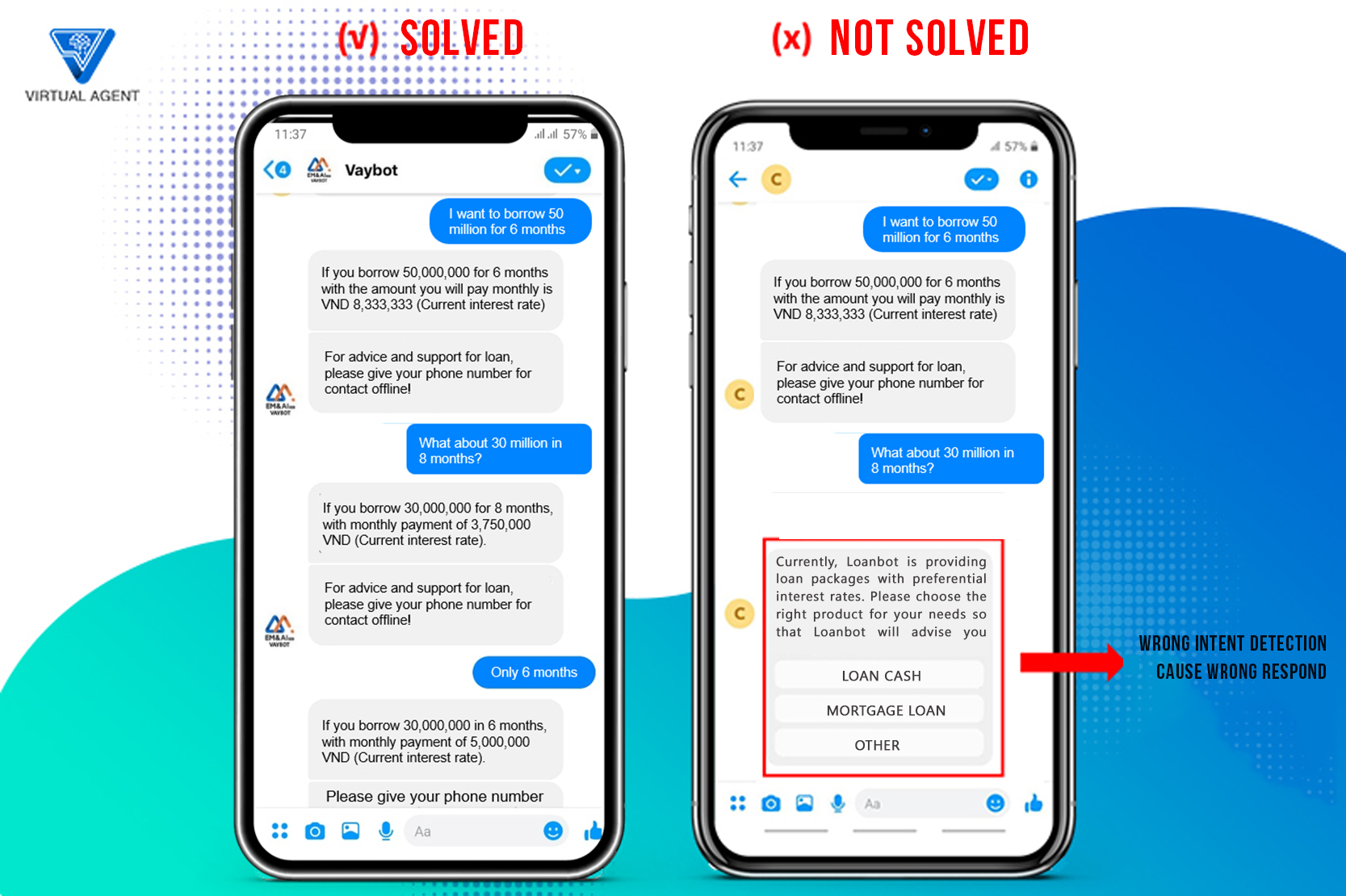 Process complex cases of natural language
Virtual assistant built on the EM&AI Virtual Agent platform is capable of handling complex conversation situations of natural language such as negative sentences, complex sentences, and informative sentences …
Not only that, but the EM&AI Virtual Agent platform also supports acronyms, slang words, teencodes, and stopwords to help identify natural language more accurately. Identifying a sentence with a line break is also a plus of this background.
Hybrid Chat – Active learning
The EM&AI Virtual Agent platform has the ability to coordinate with employees to address customer requests without interrupting their experience.
When the customer requests to connect directly with the employee or the conversation situations need to extract data beyond the virtual assistant's authority, the message will be immediately sent to the employee. Employees can engage in conversation, view previous chats, and continue to interact with customers.
In addition to all the virtual assistant chats are handling, the employee can also participate in, stop the virtual assistant to further consult the customer. These chat data will be saved and suggested for further training for the virtual assistant. This helps to save time building training data while helping the virtual assistant handle the language better because they are exposed to the actual data.
Analyze customer data
Through the data collected by the virtual assistant from customer chats, the system will provide statistical analysis to help administrators have an overview of their behavior: customers are more interested. No matter what, where do customers often stop chatting …
This is a very useful feature for businesses to have a basis for adjusting virtual assistants and better customer care strategies.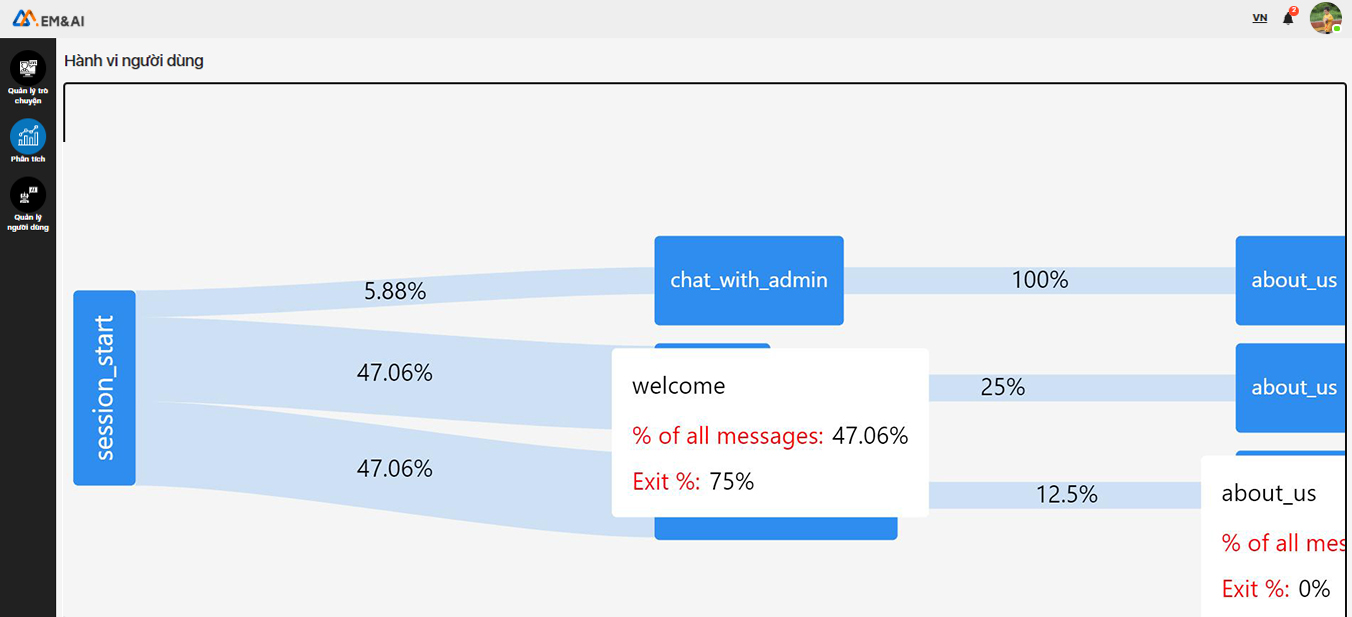 With the above outstanding features, the EM&AI Virtual Agent creation platform promises to bring business solutions to improve customer experience, contributing to promoting Sales, marketing, and optimizing business operations.
>>> Just leave your information, EM&AI will contact you for advice immediately!