Artificial Intelligence (AI) brings good chances for businesses to make long-term relationships with customers, businesses can know more information about customers such as their concerns, hobbies, or behaviors. Besides, AI has some brand-new loved interactions like Voicebot or Voice Assistants. In the future, Vietnamese companies will use the Voicebot instead of the Interactive Voice Response (IVR) for the call centers.
What is Voicebot?
Voicebot is mainly used for chatbot dialogue, however, thanks to the Voice recognition technology, Voicebot now provides a new function – the ability of recognizing and responding customer's suggestions by using voice or texts. This solution is supported by AI, Natural Language Processing (NLP) and available answers. The difference between Voicebot and Chatbot is that Chatbot uses texts while Voicebot uses voice.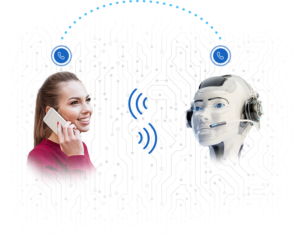 IVR is productive for businesses but not popular with users.
IVR is a solution to getting a huge number of calls and delivering to a suitable team by number interaction. It is responsible for optimizing some indexes such as waiting time or the first-time resolution (FTR). When customers call the hotline, they must hear the recorded messages and use the keypad on their phone to choose the suitable options.
IVR systems have been used for a long time but they are still so difficult to manage. Although they have helped the businesses in saving money, the truth is that customers are not really keen on this type of technology. There are still some negative thoughts of users. For example, sometimes, people cannot find what functions they want because of the lack of voice recognition technology, and IVR systems just have some instant options. So now is the time for a better choice, an amazing solution that can support customers totally.
Voicebot – The new generation of IVR for the call centers
In the future, if someone calls the call center for assistance, they would not know that they are talking with a real man or a smart robot. A vision like that can become true in the next couple of years because of the development of technology, especially in Voice recognition technology and NLP. Voicebot is really an interesting interaction channel for customers in the era of mobile phones (especially for those who cannot use the keypad when they are working or for the olders). The benefits below are the reasons why Voicebot is considered like a new generation of IVR in the future:
The high quality of Voice recognition technology – By using Machine Learning. 

More than 50% of customers find it easy and convenient to use Voicebot.

Voicebot brings the individual experience.

Multi-uses: is used to recognize, confirm, buy, report….

Easy to integrate with the current systems.

Wage-saving.
EM&AI is one of the first businesses using Vietnamese Voicebot AI to enhance customer service in Viet Nam. Voicebot EM&AI has a lot of neat functions produced by AI, Text-To-Speech and Speech-To-Text, all of these are flexible for businesses' needs. If you want to know more about Voicebot EM&AI, please click here to contact us, we will immediately give you assistance for your concern.