Chatbot is one of the most effective solutions to Customer service because of its incredible speed of growth. Due to the development of Artificial Intelligence, Chatbot is going to experience a greater period, the era of automatic service. And the appearance of NLP is an indispensable thing to meet the customer's demands.
According to a survey of LivePerson, 89% of customers left positive comments after they had been supported by NLP. So, what is NLP? And why NLP is the future of Customer service? This post aims to answer these questions.
What is Chatbot NLP?
Natural Language Processing (NLP) is a part of Artificial Intelligence allowing automatic systems to understand and handle the human natural language, this is also the foundation of Chatbot NLP. Interaction will be more than keypad actions, Chatbot NLP can even handle complex one by using multiple communication languages.
How does Chatbot NLP work?
When customers send messages via chatting platforms such as Facebook, Zalo… The Natural Language Processing would receive information and analyze them to get customer's intents. Then Chatbot would give suitable responses as it was trained. It can learn by using the chat history, this is a real resource providing algorithms to make Chatbot more and more smart in the future.
The significant feature of Chatbot NLP seen as the future of customer service.
1. It can recognize customer's intentions.
The current logical Chatbot just helps users in communication by using a keypad or just gives available responses. But in the hectic life, it must be more convenient to meet the customer's demands. They not only want to choose the options of businesses but also show their wishes themselves. That is why Chatbot NLP is a better choice than the current one.
So why is Chatbot NLP better? It is because Chatbot NLP can easily know what its customers want no matter how they speak, no matter what accent they are using. This is truly an amazing way to make users comfortable and feel like they are talking with a real man. This is not everything Chatbot NLP can do, it also recognizes more than one intent in a sentence, this is based on a high level of algorithm.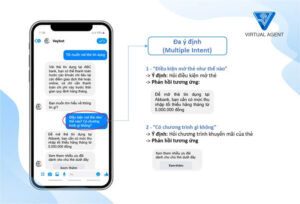 For example, Vaybot – a chatbot of EM&AI Virtual Agent. If a customer sends chatbot a message "What are the conditions to create a new card? Is there any program?" With these questions, chatbot would recognize 2 different intents of this customer: 1- Conditions of creating a new card; 2 – Information about discount programs. Then it gives 2 different responses for these 2 intents.
2. Chatbot NLP can extract information.
It not only knows the customer's wishes but also extracts beneficial information called "entity" which is classified by groups to make its jobs better.
For instance, if someone wants to know about borrowing money, Chatbot needs to know some information about them such as name, phone number, the amount of money that they want to borrow… 
Chatbot has the ability to recognize and classify the words in the texts because it was trained. This ability called Name Entity Recognition – NER, a part of NLP

The below example is about consulting insurance chatbot produced by EM&AI Virtual agent. It can recognize a complex sentence with more than an intent, this makes chatbot more natural in communication.
Besides, EM&AI Virtual agent has a great foundation using available entity systems can recognize information such as name, phone number, address… this is so important in making Bot's training process and information extraction easier.
3. Chatbot can manage the conversation in different contexts.
Managing conversations is one of the most necessary functions in ensuring the productivity of customer experience. Chatbot NLP is trained in remembering contexts vividly and managing information in these contexts. This function allows Chatbot NLP to predict the next questions of customers so it can easily provide suitable answers. That is the reason why Chatbot NLP can handle some complex situations and make the communication coherent.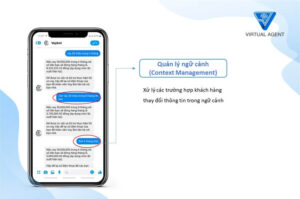 Chatbot NLP can communicate like a real man, so it can easily handle all of the customer's demands and saves 80% of the working time of the operators then they can focus on more complex jobs. This also helps businesses in reducing the overload of customer service centers. So, we can see the importance of Chatbot NLP in making good relationships between businesses and customers and increasing the ability to compete in the future.
Make your customer service greater by using Chatbot NLP produced by EM&AI. If you want to know more about us and our products, please leave your information here, we will contact you as soon as possible.